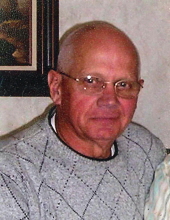 Obituary for Gary Dennis Flint
Flint, Gary D.
Age 77
Of Wyoming
Died unexpectedly on July 31, 2017. Gary was a 35 year employee of American National Can. Preceded in death by parents, Lloyd and Thelma. He is survived by his loving wife of 52 years, Sue; children, Debra (Robert) Reitzel, Daniel (Vicki), Dawn (Tim) Matuseski, Mike (Pat Trombley), Kelly Rydeen (Blaine Dorweiler); 13 grandchildren; 9 great grandchildren; siblings, Sandy (Ken) Keister, Lloyd (Nancy), J. Lindsay (Terry Kjellgren), Colleen (Kevin) Smith; many relatives and friends.
A Celebration of Gary's Life will be 4-8 PM, Thursday, August 3, 2017, with 7:30 PM sharing, at Mattson Funeral Home, 343 North Shore Drive, Forest Lake. In lieu of flowers, memorials may be made to the American Heart Association or Alzheimer's Association.