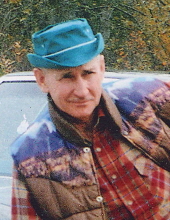 Obituary for Harold L. Lehman
Harold "Harry" Lehman, age 88, of Lino Lakes, Minnesota died August 28, 2017. Harry was born August 24th, 1929 to August and Eva Lehmann (He dropped the last "N") and grew up in the home his great-grandfather built, which later became August's, who was the youngest son, and then Harold's, who was his youngest son. Harry lived in that house most of his life minus several years on Hodgson road where he and Marlys moved some time after marriage. He loved that farm and absolutely refused to leave until he had to. Harry had a few jobs when he was younger, but spent most of his life working for International Harvester/Case. He proudly served in the US Army and later served as a corporal in the reserves. He loved hobby farming his 57 acres and every cow had a name (Gertrude , Sir Loin , Chuck, etc.) He loved playing with his tractors and we would joke that he purposely got one stuck so he could use the other to pull it out. He loved auctions and in later years having garage sales with his best buddy, Warren. He learned to dance to old time music and was quite good and met many wonderful friends through dancing. Dad was preceded in death by his siblings and grandson Patrick Niemi. He is survived by his children: Crystal (Tom) Longtin, Holly (fiancé Wes) Kostohryz, Julie (fiancé Bob) Niemi and John Lehman; grandchildren: Nicholas (Jamie) Longtin, Stephen (fiancé Nikki) Kostohryz, Michael Kostohryz, Katie (fiancé Brett) Kostohryz Christopher Kostohryz., Allan and Joseph Niemi ; great grandchildren: Kru Longtin, Mariah, Gavin and Connor Kostohryz, Adelyn and Rosalee Kostohryz; many nieces, nephews and all the girls he loved before.

Celebration of his life will be held at 3:00 p.m., Tuesday, September 5, 2017 at Mattson Funeral Home, 343 North Shore Drive, Forest Lake. The family will greet friends from 1 p.m. until time of service at the funeral home.
Previous Events
Visitation
Mattson Funeral Home
343 North Shore Drive
Forest Lake , MN 55025
Service
Mattson Funeral Home
343 North Shore Drive
Forest Lake , MN 55025