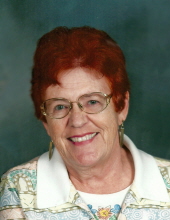 Obituary for Dorothy Lee Frenning
Dorothy "Dottie" Lee Frenning, age 79, formerly of Stacy, Minnesota, died Monday, October 23, 2017. Growing up ice skating in St. Paul's Hazel Park neighborhood, and taking the bus with friends to the Coliseum Roller Rink, Dorothy Lee graduated from Harding High School in 1956. She was Dynamite on Wheels and roller skated for most of her life. Known as Dorothy by some folks, and by others as "Dottie", to Don Frenning she was the love of his life. "What a Pair" has been uttered in exasperation and in delight at their antics during 57 years of marriage. Dottie was a member of the Machinists Union. After years of working at the Armory and 3M she retired when Don did. They built a home at Creeky Point in Stacy, Minnesota, enjoyed hobbies and being near family. For 17 years of their retirement they lived away from Minnesota. She and Don RV'd across the USA and in Dottie's words, "Peed in every state."
Known for playing spoons, Dottie was in her element musically. She beautifully carved these unique sets of spoons out of wood and delighted in years of jamming with musicians in Pharr, Texas. Once back in Minnesota she played spoons with local bands, even playing along with the up tempo song "I'll Fly Away" last month at her husband's funeral. Don Frenning preceded Dorothy in death by 7 weeks. She also lost her twin brother Duane Lee, whom she met as Jim Larsen when they were adults. Dorothy is survived by her sister Kathy Affolter, Macon, Georgia, who is also a twin and the last of the six siblings that were reunited for the first time nearly 40 years ago. Also survived by sister-in-law Helen A. (Frenning) Bellin, caring nieces and nephews, and life long friends. Family acknowledges the friendship and support of St. John's Lutheran Church members in Stacy, and the staff and residents of the entire Ecumen Parmly community, Chisago City, that was home to Don and Dottie since 2005. Memorials preferred to St. John's Lutheran Church 'Tree of Life' or to Lewy Body research, online at www.LBDA.org
Graveside services will be held at 12:00 p.m., Sunday, October 29, 2017 for family and close friends, at the Stacy Cemetery, Hwy. 61, Stacy, Minnesota.
Previous Events
Graveside
Stacy Cemetery
Highway 61
Stacy, MN 55079