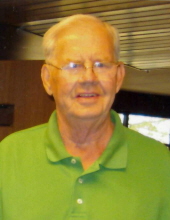 Obituary for Donald Lee Peterson
Donald Peterson passed away peacefully on Tuesday, November 07, 2017, at the age of 88.
Preceded in death by wife, Barbara. Donald and Barbara were married 64 years.
Last year Donald was able to join eight other fellow classmates in Braham, MN for his 70th class reunion.
Donald is remembered by his sons Craig, Michael, David and his daughter-in-law Jan and his brother Eugene of Cambridge, MN and sister-in-law Wanda of Cloquet, MN. He leaves many fond memories behind for his two grandsons Eric and Marty. They will deeply miss him. They both brought much joy to his life along with Eric's girlfriend Nicole.
Donald's last years were spent at River Village in Northeast Minneapolis where he had the chance to meet and tell his many stories of his life to his new friends. He was especially lucky to have special aide Nicole Grack while he resided at River Village.
Donald's father worked for the railroad and Donald came into this world while on a train to Tacoma, WA. This might have been where Donald got his love for travel. He enjoyed working and traveling the Midwest area selling seed while working for Funks and Mallard Seed Company. Donald was especially fond of working the exhibit booth for Funk at the Minnesota State Fair each year also. He met many people over the years through his travels and business and anyone that knew Donald knew he had a gift to talk and tell stories and loved sharing his adventures and stories.
Donald always had a smile on his face and a joke on his lips. He liked nothing better than engaging an interesting conversation with a good friend, a new acquaintance or a total stranger. It really didn't matter who it was.
Anyone who got to know Donald and had the opportunity to visit with him all knew it was best to not bring up politics because when it came to politics it was Donald's view and ONLY Donald's view so it was best left alone.
When Donald retired Donald and Barbara drove to Florida for fifteen years to enjoy the warmer weather during the winter months. Donald kept himself busy working at the Cleveland Indians Spring Training Camp parking cars and meeting a wide assortment of people and among them some of the ball players.
Donald would wait for his two grandsons to come to Florida each year to pluck those oranges off the trees and set those boys on the counter just as fast to show them how fresh orange juice was made! A memory the boys won't forget. He also loved showing those boys off to all their friends.
Another noteworthy thing Donald especially enjoyed is having family and friends to their home Forest Lake to watch the 4th of July parade. He would go out on Main Street on the 4th of July by 5 AM to set MANY chairs out for company and boy if anyone moved one chair he knew it.
He will be deeply missed but not forgotten!
A celebration of Donald's life will be held a Tuesday, November 14, at 11:00 with a visitation one hour prior at River Village Community Center, 2919 Randolph Street NE, Minneapolis.
Previous Events
Visitation
River Village
2919 Randolh St. NE
Minneapolis, MN 55418
Service
River Village
2919 Randolh St. NE
Minneapolis, MN 55418